I wanted to take some time to thank the people in my life for being so wonderful...so today's letters are to them. Go ahead and visit Ashley at
Adventures of Newlyweds
and link up your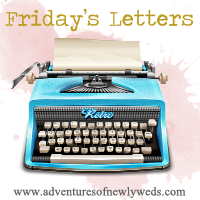 Dear
Amazing Hubby
, There is nothing in this world I could do to deserve the love you give me everyday. Thank you for standing by me - through everything - and reminding me that I am truly loved, no matter what. I love you.
Dear
Tween Monkey
, Don't be in too big of a hurry to grow up. Enjoy your youth and innocence and remember, I am still your mother and it is still my job to make sure you turn out alright. So you may not like everything I ask you to do, just know that I have my reasons. I love you.
Dear
Monkey Boy
, Your heart continues to amaze me. You are always thinking of others and what you can do to help them or do something special for them.. (You are so much like your Dad!) Everything you do tells the world that you love, no matter what, and I pray that nothing happens to change that. I love you.
Dear
Monkey Princess
, We are so proud of you. You are growing and learning everyday and becoming a beautiful young lady (on the inside and the out). You melted my heart when you asked if God was smiling at you. I know He is. I love you.
Dear
Readers
, Thank you so much for sticking with me. Every comment you make is so encouraging and I hope you continue to enjoy visiting with me and learning about what makes me tick!
Love you all,
Rulissa